1. 5-a-side League. Participation fee €1200 + VAT.
2. The League will be played through 3 stages as follows:
– 1st Stage. The 23 teams will be divided in 2 groups and play one round.
– 2nd Stage. First 6 teams from each group will create the PREMIERSHIP group and play one round. Rest eleven teams will create the CHAMPIONSHIP group and playone round.
– 3rd Stage. The winners in the 2 categories independently will emerge through knock-out single games.
Premiership. Top 4 teams qualify directly to the Quarter finals. Teams from 5 to 12
play single knock-out games to progress and fill in the remaining 4 positions.
Championship. Top 5 teams qualify directly to the Quarter finals. Teams from 6 to 11 play single knock-out games to progress and fill in the remaining 4 positions.
3. Team roster up to 12 Players.
4. One game per week, after 19:00 (2 games a week might apply rarely and only if needed).
5. A team can start a game with minimum 4 players.
6. High quality artificial grass pitches sized (40mΧ20m) and goalpost size (2mΧ3m).
7. Game duration: 2 halfs Χ 25 min. 5 minute break between halfs.
8. League duration: 8 months OCTOBER – JUNE.
9. Ball size: 4
10. All games refereed.
11.Games jerseys for each team. Teams are allowed to play only with the official
game jerseys given by the league. No other jerseys allowed.
12. Jewelry and metal spikes not allowed. Only proper artificial grass boots allowed.
13. Team attendance time: 15 min. Before the game.
14. Team that doesn't show up 10min after starting time, losses the game by 3-0.
15. Team that doesn't show up for 4 consecutive times or 5 in total will be eliminated from the league.
16. 2 transfers allowed for each team. Transfer window starts December 22nd 2022
and ends January 9, 2023. Each team is allowed to register players, if empty spaces
on the roster, until January 9, 2023.
17. All rules are set by the organizers. No changes can be made by third parties
without organizers approval.
18. In case of referee absence replacement can be made by the league inspector.
19. Organiser is allowed to change game schedule if nessesary.
20. Referee, only, is responsible for all decisions during the game.
21. Prizes total valued at €5000.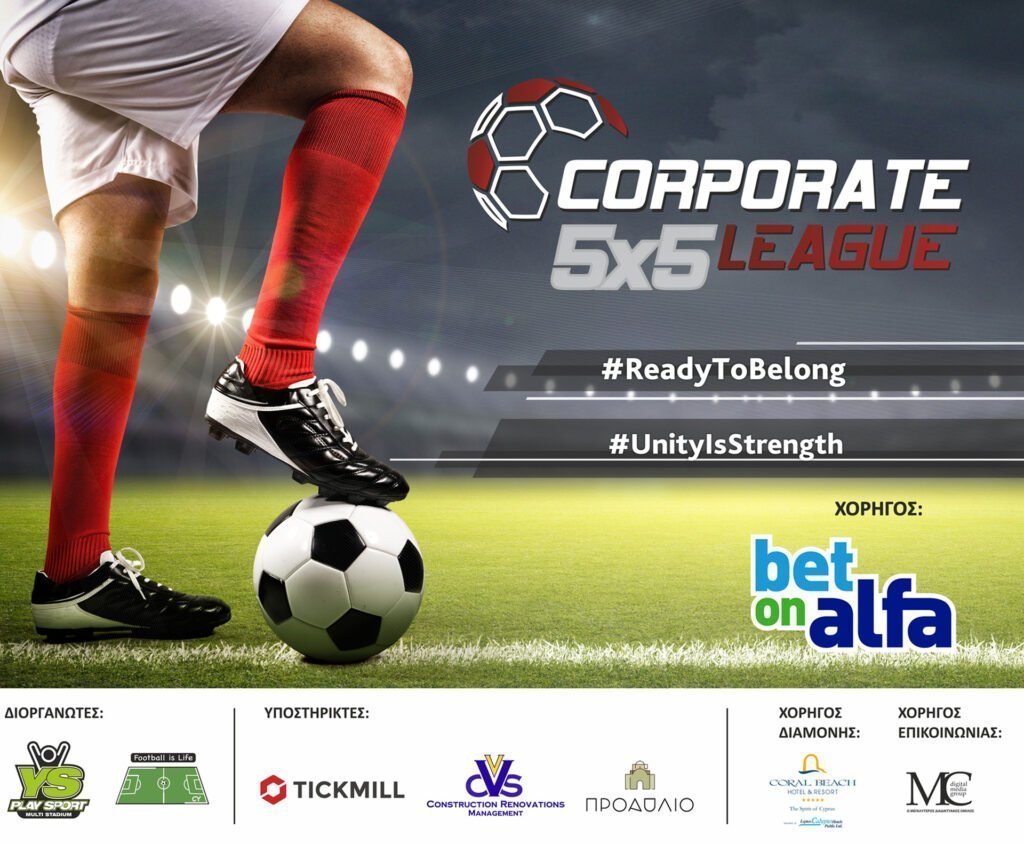 1. League's point system: 3-1-0.
2. League table.
League table and positions are set according to:
2.1 Team with most points.
2.2 Results between teams with same points. If still equal, goal difference, then
most goals scored. If still equal, teams play extra game between them.
3. Players should be 18+.
4. No professional footballers allowed in the League. Professional players are
considered the players that are playing or played during the last year in Cyprus
division 1, 2 (11V11) and Futsal division 1 (5V5).
5.Team captain is responsible for player's authentic I.D. Referee is responsible for
player checking according to game sheet before the games.
6. If illegal player participation is spotted, team loses game by 3-0, the player is
eliminated from the league and the team is not allowed for replacement.
7. Teams have the right to appeal against the other team in 24 hours after the end of a game.
8. Players compete with same Shirt Numbers according to registered roster.
9. Only players and coaches are allowed to enter the field.
10. Substitutions are unlimited and are made during game play. Subs are made at the side center and replaced player comes out before entering player comes in.
11. No offside rule.
12. SLIDE TACKLING is NOT allowed. A player is allowed to fall and extend one leg while the other remains steady.
13. A player misses next game when completing 4 yellow cards.
14. A player misses next game when completing 6 yellow cards. Every yellow card after 6th has a result of player missing next game.
15. 2 yellow cards in a game leads to a red card and player misses next game.
16. Red card during the game leads to team playing for 2 minutes with a player less. If the team conceives a goal during the 2 minute penalty they bring on a player. The red carded player should leave the field and cannot re-enter the game.
17. Direct red card leads to 1 match band for a player and the organisers examine further punishment.
18. The penalties from the organisers will be very strict for no safety and respect
reasons like, dangerous playing, fighting, bad language against referees, opponents or teammates. Eliminations of players or teams might occur if necessary.
19. The Organisers are allowed to add penalties and inform the involved parties within 3 days from match ending.
20. Goalkeeper restarts the game by hand throw only.
21.Out-side is played with foot kick and the defending players should have a 5 meter
distance from the ball. A goal cannot be scored by an out-side kick.
22. Defenders distance from the ball to all free kicks (foul, corner kick, out-side kick) is 5 meters.
23. In case a rule is not clear, federation's rules will apply. If still not clear organisers
decide.
24. Each player has full responsibility of being healthy and should have doctor's
check-up before registering. Each player has responsibility in case of injury and legal consequences.
25. Organisers do not accept any responsibility in case of injury or death that might occur during the League.
26. The organisers have the right to change or convert rules, always for better
organisation of the league and inform the involved parties in advance.
27. Organisers and partners have the right to use personal data and players images that compete in the league for marketing reasons and processes.
28. The content of these regulations is property of Y.S Stadium Ltd and any
dissemination, distribution or copying is prohibited.
29. Teams that miss three games totally during the 2nd phase of the league, will not be allowed to play in the play-off stage.